Interview from http://www.caerllysimusic.co.uk

1. Great bandname, even a weird bandname, how did that come about ?
LIAM: When we formed and began thinking of names, we wanted something that had a 'mythic' and 'otherworldly' quality, and something that reflected certain inspirational figures. Dead Heroes Club was mentioned as a possibility and we all loved it instantly. We all have personal heroes who are no longer with us; it's great that we have hit on a name that calls that to mind.

2. Do you find it important to be classified as a progband and /or do you see yourself as a progband? Or you couldnt care less about classification genre wise..as long as people recocnize/like your music?
LIAM: I've always thought that the nature of 'progressive rock' is that by definition it crosses over musical borders and mixes styles so that really it is a coming together of musical genres and represents an open, imaginative and unfettered approach to music – but this 'free form' song-writing approach has been labelled prog – Dead Heroes Club very much belong to this 'song for song's sake' category of music, and we acknowledge that we are prog for all the right reasons. Having said that it is not vital to us that listeners immediately connect us with progressive rock and we hope that the songs stand up as just good songs.
GERRY: I don't think it's important in any vital terms but seeing as all bands get pigeon holed whether they like it or not we might as well be classified alongside bands we admire. I like to think we are a bona-fide Prog Rock band and as long as people appreciate our music they are free to call it what they wish.
MICHAEL: I fear progrock may be unhealthily obsessed with categories and sub categories. The reason for this is beyond me.
WILSON: I really love the whole freedom of prog but I'm just glad people are enjoying our music.

3. Do you find cover art important? Please elaborate.
LIAM: Yes the art is all part of the package that is the album; the cover art of an album is like the gateway into the music and a good cover should reflect some of the themes and mood of the music within. We were lucky enough to have secured the services of Ted Nasmith, the JRR Tolkien estate official illustrator, for the artwork on 'A Time of Shadow'. The cover art, after a consultation period in which he discussed themes and motifs in the lyrics with us, is his interpretation of the album title

4. Which comes first in your process of composing/creating music, the lyrics or the music?
LIAM: It's an organic process really and has no fixed format. Sometimes the music and lyrics grow, develop and evolve together. The mood of the music can suggest a theme in the lyrics or visa versa.


5. Which bands/artists/genre would you name as your inspirational source? Please elaborate and individual perspectives would be great.
LIAM: One of my 'Dead Heroes' is Elvis Presley; I love his approach to music - he always gave his heart and soul to each performance. Also I'm a fan of a lot of bands and artists from progressive rock particularly Genesis (all eras), and performers such as Francis Dunnery and Greg Lake. The Police and U2 are bands that I greatly admire also.
GERRY: Classic Prog Rock bands such as Genesis, Floyd, Camel, Tull, Yes. Later Prog Rock bands such as It Bites, Marillion, Pendragon, Porcupine Tree, Sylvan, Sieges Even. Kate Bush for her inimitable originality, consistency and unashamedly skewed approach to music. More traditional Rock bands like Thin Lizzy, Led Zeppelin, Deep Purple and anything with a smattering of inventive and innovative guitar playing.
MICHAEL: Very varied influences - but here's a few: Toots Thielemans/Bjork/Mahavishnu Orchestra/Tom Waits.
WILSON: Everything you hear makes you the player you are. For me though a lot of blues players really showed me the way.

6. The Mellotron, has become an icon..a pseudonym in progmusic circuits. Whats your thought on that and the particular instrument?
LIAM: It's a multipurpose instrument, not only does it make a great sound but if things aren't going well money-wise you can hollow it out and live in it!
GERRY: I hope we never hire a keyboard player who owns one, they way an absolute ton! It is a great sounding instrument in the right musical environment but I am fairly Mellotron 'laid-back' other than that.
WILSON: I'm more of a Hammond man myself.

7. If the ultimate choice were given to you, which comes first, live performances or studio work? I realise that is 2 sides to one story, but please do tell...elaborate!?
LIAM: That question is very difficult to answer; it's like asking a parent which is their favourite child. But I suppose the purest connection to the music is via a live show, because this is where a band becomes a band and feeds off the audience. On the other hand an album is the definitive statement of where a band is musically at a given point in time. That answer is a bit of a cop out…sorry!!
GERRY: Nothing quite beats the playing live experience; the studio experience can be a mixed bag for some musicians. Personally I love the recording environment.
WILSON: Recording the album was great but I think we're all looking forward to playing it live. That's where the fun starts

8. In many interviews Beatles comes up as as the ultimate forerunners of prog!? In other words...without Beatles, no progscene as we see it today! Do you concur? Please elaborate!
LIAM: The Beatles began experimenting with the album format in a way that no one else had done previously. It's perhaps going a bit far to say 'without Beatles, no progscene' but they certainly paved the way for a more imaginative approach to song writing and album creation
GERRY: I am a huge Beatles fan and their influence on everything that followed them cannot be over stated. As to whether Prog Rock as we know it would or would not have existed without their experimentation it's impossible to say.
MICHAEL: I don't think any one person or band is totally responsible for any new musical form.

9. In a given concert, with you headlining, whom or which band/artist would you most like/love to see on that Imaginative poster! Please feel free to name several!
LIAM: I would love to see a Genesis concert with Gabriel and Collins sharing vocal duties, complete with Steve Hackett - but I would be too overawed to share a stage with them…
GERRY: Roger Waters, just to see how grumpy he would be at not headlining!! And It Bites reunited with Francis Dunnery.
WILSON: There's lots of bands I'd like to be touring with - most of which we'd be supporting: Tull, Crimson etc

10. In this day and age of progcircuits, I guess most of your fans, friends & musicians would like to learn the instruments of your choice, im of course talking make and brand. Please elaborate individually!
LIAM: There were various weighted pianos, organs, Yamaha & Roland synths used in the making of the album. I like the old classic Shure SM 58 for live.
GERRY: My main Heroes instrument is a custom made GD mahogany body Strat type guitar with EMG active pick-ups, Wilkinson V100 trem and Sperzel tuners. I also have a 92' Gibson Les Paul Standard for the de-tuned number and Seagull and Takamine guitars for the acoustic stuff. Main amp is a Seymour Duncan 84/50 2x10 50watt valve combo. Effects.....erm.......everything!!
MICHAEL: I used two kits on the album. A Yamaha 9000 and a DW. The Cymbals were a mix of zildjian, sabian and ufip
WILSON: I'm currently using "Old painless" a Spector 6 string bass. Best thing I ever played. Also used a musicman fretless & Fender jazz on the album.

11. I really like your album and especially the lead vocals (which remind this interviewer of the great Rare Bird singer Steve Gould!!) there is a great 70´ prog vibe to it!! Do you find yourselves or even indulce in that early progperiod?
LIAM: Thanks for the kind words, and I'm flattered to be mentioned alongside a great singer like Steve Gould. We didn't purposely set out to create a 70's feel for the album but we have been influenced by many bands who arguably had their heyday in that decade. So I suppose it was inevitable that this would be reflected in the overall feel.

12. I love epic tracks and you guys deliver 4 of them on an album that holds 6 tracks! Is that on purpose? Or do you "just" compose/create music..not minding the time sequences?!
LIAM: The long songs became long songs naturally; there was no master plan. In terms of balancing out the album, however, I think it was necessary to have included a couple of shorter tracks.

13. I find some of the lyrics, sinister, dark and somewhat a social comment (The Centre Cannot Hold)Is that an accurate observation? Please elaborate!
LIAM: Yes, I try to write lyrics that are grounded in reality rather than being flights of fantasy. There are dark threads and recurring themes running through the lyrics. There are sparks of light flickering against a dark, menacing sky and as such the album is not all shadow. Ted Nasmith caught this mood beautifully in the cover.


14. Do you (as a band) find it difficult to reach the greater audiences (fans,listeners) as it where? Do you guys want to be true to your beliefs, both musician wise but also in origin? Meaning, you wont compromise your original ideals, for a wider audience or a record deal?! Please elaborate!!
LIAM: I tried to get into a boy band once but they sacked me when I asked which one was the drummer! No…you have to stay true to the music otherwise everything becomes contrived and you might as well be a boy band.
GERRY: If you mean are we going to turn into a spectacularly uglier version of Girls Aloud in a bid for commerciality, the answer would be NO.
MICHAEL: We're Irish – compromise isn't something we are good at!
WILSON: We're 'song for song's sake!' I don't think that will change. It would be a hollow gesture to try to be something that you're not. People see right through that. I think a lot more people will get it eventually. These things take time.

15. Do you (and im treading dangerous territory here) feel proud as to be an Irish progband? Does it matter? Or do you guys, like many others, think that music crosses borders? Music is music, no matter where it comes from?! I of course realise that coming from a certain place In a given country, makes you proud of that particular heritage!! Please tell?
LIAM: Yes of course, we're not exactly coming down with prog bands in Ireland, in fact to current knowledge we are Ireland's only existing prog band and we are trying to fight the good fight in Ireland. The Emerald Isle, like Scandanavia, is a place where Romance, myth and fire propel the past into the present: it is a country, a heritage and a landscape that has always given rise to emotive and imaginative literature and music, so progressive rock is suited to that environment. I hope though that our music, whilst carrying some Irish fire, resonates with a listener from any background.

16. Any new plans? New album and/or a concert tour? I for one would love to see you guys live in Denmark!!
LIAM: We'd love to play Denmark soon, but we'll have to wait and see on that one. We have shows lined up to promote the album including a performance at The House of Progression/The Peel in London on Jan 30th 2010. Hopefully we can build on the success of 'A Time of Shadow' and get working on a third album sometime next year.

17. Finally, I would like to thank you sincerely for doing this interview and here´s your chance to tell our readers, your fans, everyone into progmusic, what´s on your mind at this moment!??
ALL: It was a pleasure and we hope in some way we are contributing to the world of music in a positive way

18. God´s speed and here´s to you, hoping that you create another superb album!! I for one, will be eagerly awaiting!! Take care!!
ALL: Many thanks for your time Tonny and thanks also to anyone who takes the time to read this and pursues an interest in Dead Heroes Club…right we are off to another rehearsal…taxi !!!

Interview from www.progarchives.com
http://www.progarchives.com/forum/forum_posts.asp?TID=71504
Dead Heroes Club from Derry, Northern Ireland was formed sometime after the millennium, when Gerry McGerigal (guitars, vocals), Liam Campbell (vocals, guitars) and Mickey Gallagher (drums, percussion) decided to form a band of their own. They all had previous experience in different bands, and all of them had become tired of playing only plain mainstream-oriented pop and rock music - and all shared a passion for progressive rock from the 70's and 80's.

With an aim to form a band creating an playing adventurous music that appealed to the mind the trio went out looking for other musicians in their native Ireland that would find this vision intriguing. When discussion such a possible addition a name kept popping up in conversations - Charlie Coyle. And it soon turned out that he was interested, and besides providing the bass guitar the so far unnamed band needed he also turned out to be an accomplished keyboard player; and as such covering both instruments needed for the band to record their compositions, as they at that time had yet to find a suitable keyboard player.
I got in touch with them through Shawn from ProgRock Records. The band collectively answered my questions.
+++++++++++++++++++++++++++++++++++++++++++++++++++
I visited your town Derry many times at the beginning of this millennium so that explains why I start this interview with a personal question.
Is the tavern at the bus station in Derry still serving that delicious Irish Stew ? Lovely tender pieces of lamb together with lovely potatoes. If yes, I think I may get over there again for a gastronomic visit to one of the most special places on this planet.
Yes, the Irish stew is still to be found in that pub. The pub is now called Beckett's, after the Irish playwright Samuel Beckett, one of the leading lights of the original Theatre of the Absurd movement - coincidently the title of the opening song from the 'A Time of Shadow' album. How's that for serendipity!?
Your band comes from Derry in Northern Ireland, the most special city in the British Isles. How was it to grow up and set up a band in this city, which also was the scene for
Bloody Sunday
in 1972? How much of Derry and
The Troubles
do we find in your songs?
Thanks for your kind words about Derry, of course it is pretty special city to us and the original inner Derry is one of the very few intact walled cities in the world. We all grew up with The Troubles, but to us that was just part of the landscape of our lives - we never let The Troubles destroy the positives of coming from the North of Ireland and this unique part of the world. As part of our heritage, our past and part of who we are, The Troubles and the struggle for normality in a chaotic world of oppression, guns and tribalism will always feed the music. Not in a necessarily overt way – but rather it is absorbed into the mood, the symbolism and the themes. There are a few occasions when the specter of Northern Ireland's political & paramilitary past and present arises into clear view. The lyrics on 'A Day in the Life of the World' (the opening song from the debut album), the lines "In my own homeland /slaughter for the lamb / if you're from the other side / for God and glory they'll take your life" from 'A Gathering of Crows' and the closing section from 'Theatre of the Absurd' (both from 'A Time of Shadow' album) are cases in point.

I know Derry had a very vibrant music scene during The Troubles and in the recent times. Were any of you involved in any other band or project before starting Dead Heroes Club?
Yes, we were all involved in different projects and knew each other well from other bands – and knowing we all shared the same 'outlandish' taste for experimental and progressive music we had a few meetings, a few jams and decided to set up a dedicated progressive rock band. We started off playing tracks like 'Squonk' by Genesis, 'Time and a Word' by Yes, and 'Time' by Pink Floyd before beginning the ultimate goal of creating our own music in our own way. A band playing in this style still remains something quite unusual on Irish soil, but we are beginning to turn some heads.

Please tell us more about Liam Campbell's solo album On the Streets of the Underground.
Yes, Liam released that solo album before Dead Heroes Club was formed. You can easily detect his progressive leanings on some of the songs. Interestingly two Dead Heroes Club members: Michael Gallagher (drums) & Gerry McGerigal (guitars) guest on a couple of the songs. The album sold well and is now almost completely deleted, and it is not scheduled for a re-pressing. There are, however, some final copies still available – interested parties can drop a note to the band's email address -
deadheroesclub@btinternet.com
– for further info. Liam has plans for a second solo release probably early 2012 but things are only in the early stages. More info will appear on the band's websites in due course. A quick point related to an earlier question: there is a song on Liam's solo album called 'Free Derry Corner' which deals very explicitly with The Troubles in Northern Ireland.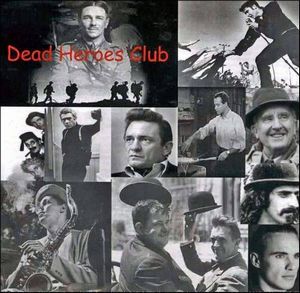 Over to Dead Heroes Club again. Please tell us more about your first album Dead Heroes Club from 2004
Our first eponymously titled album was released independently before the band was signed to ProgRock records. It served its purpose well in terms of announcing a new prog band that was influenced by the old masters but still had its own sound. The album sold extremely well, and was critically well received, getting the band noticed. Like Liam's solo release, this album is now almost completely sold out – but there are plans for a re-pressing. As before, anyone interested in getting their hands on the last of the original pressing can email
deadheroesclub@btinternet.com
if we can help we will – but the last batch of these is likely to sell out on forthcoming gigs (there may be the odd copy left in some outlets though). Dead Heroes Club still play a selection from the debut album in the band's live set, indeed the 10min track 'A Secret Never to be Told' remains a live favorite.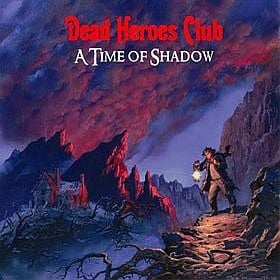 Please tell us more about your second album A Time of Shadow from 2009
The 'A Time of Shadow' album is a clear statement of where we are musically. We decided to approach the songwriting for the album in a very open way, allowing the songs to lead the way, some songs ended up over 15 mins, some 4 mins. We also allowed the mood of the music to feed the lyrics and visa versa. There are some very dark moods on there, but some piercing light as well; there are moments of power and grit, and some more delicate and atmospheric passages – we wanted that spectrum of sound – but believe it all feels like a unified work. Also, we were very lucky to acquire the services of the J.R.R. Tolkien artist Ted Nasmith to design the cover for us. He worked in close unison with the band discussing themes, lyrics and moods before attempting to interpret the title 'A Time of Shadow' for a cover illustration. We are all very pleased with how it turned out. Also we are very happy with how the songs are sounding live at the moment.

Why the five years long break between the albums ?
Good question. We don't plan such a long break between albums again. Between the first and the second, however, we experienced a member leaving (on good terms) - bassist Charlie Coyle. It took a while to find a suitable replacement – with the attitude, playing style and commitment we needed. Thankfully we have found that in Wilson Graham who has added a new dimension to the band. We had a few other problems also but rather than list things here, suffice to say such events contributed to the album's title 'A Time of Shadow'.

Just to give those of us who are unknown with your albums a bit of a reference point or two: How would you describe your music?

That's difficult! Our sound is driven by power, emotion and melody, and we hope that we have our own musical soundscape, although as one reviewer states 'the blood of Genesis, Floyd and Tull flows in [our] veins". Indeed maybe it would be wiser to allow the critics to describe our music. The
'Prognosis'
reviewer said, "Dead Heroes Club present a full symphonic prog musicality, clearly influenced by the 70's greats but bringing those references to a modern approach." The
Jerry Lucky
Prog Files state: "Stylistically Dead Heroes Club blend elements of different eras of Genesis, think Wind and Wuthering or Trick of the Tail with more than a hint of the recent work from Echolyn"
Classic Rock Music
offers: "Ireland has a progressive rock band of its own and one to be mentioned in the same breath as modern proggers Spock's Beard, The Flower Kings, Glass Hammer and Porcupine Tree." Craig Hartranft of
Dangerdog
says "DHC combines impressive and creative progressive rock, steeped in the classic tradition, with brilliant lyrics". And Jeff Perkins of
Eurorock
kindly writes, "This is thinking person's prog. A Time Of Shadow has a powerful collection of thought provoking, imaginative, and inspirational lyrics the likes of which I haven't heard in a long time"
Hey who are we to argue with those guys? But seriously, it's nice to have so many views that taken together add to describing our music as stylistically modern but with a clear classic prog influence.
What is the latest update on Dead Heroes Club and what is your plans for the rest of this year and next year?
We are currently in pre-production for a new studio album, and are excited by how the new songs are sounding. There will be more news about that as things unfold but the album should be out early next year. Also, we are due to play 'Summer's End', the UK's most prestigious Prog festival, on Oct 10th – and are showcasing one of the songs written for the new album in our set. We are also in talks concerning a UK tour in the spring – we will keep the websites updated about that. We would love to do a few shows in mainland Europe or the USA but logistically things would have to be in place – nevertheless, you never know.

Besides of music, what else are you up to in your lives?
We all have busy lives, Michael (drums), Wilson (bass) & Chris (keys) all teach aspects of music and have other musical projects on the go. Gerry (guitar) plays in an acoustically based band that features the music of Joni Mitchell amongst others. Liam (vocals) lectures in English, and has recently won a literary award for his play 'The Harbinger'; he also has an academic book on the works of J.R.R. Tolkien coming out in December 2010.


Back again to Northern Ireland. I lived there for some years and travelled all over this part of the world which is best described as the Garden Of Eden. Stunningly beautiful, in other words. What is the words you want to use on Northern Ireland?
Thanks for your kind words – they pretty much say it all – Ireland contains some of the most striking landscapes under the sky – all the history, heritage and legend of Ireland is fused with a story of the land, the green fields and the protective mountains – all of which are older than the politics which threaten the soil.

Anything you want to add to this interview?
Thanks for speaking with us Torodd, we hope that the interview provides others with some insight into the nature of Dead Heroes Club, and we hope that some may enjoy listening to the music as much as we enjoy making it. We will be updating our myspace site with regards the new album as things unfold, and should be launching a brand new website soon.
Right – we're off to try some Irish Stew…
Kind regards, Dead Heroes Club

http://www.progarchives.com/forum/forum_posts.asp?TID=71504
Summers End
by Phideaux Xavier on Tuesday, October 12, 2010 at 10:42pm

I really enjoyed Summers End. We arrived at 9 am Friday morning on the overnight flight, and couldn't get into our rooms until 2 pm, so we wanted to collapse and sleep. Therefore, we missed Resonance Association and Tinyfish! I'm sad because I've heard Tinyfish and wanted to hear them live. Defense of Realm was great, as one would expect. And fun skits. I loved the last Kino song they played. It is just so evocative and sad. I LOVE tragic music (but if you've heard mine own you probably know that!).

Saturday we got there a bit late as well, missing Hakan who I heard were great. We saw arK (did I spell that right?) and I'm ALWAYS happy to hear anything John Jowitt is involved with. Great, dramatic music and stories. Unitopia were classic, and most of the folks in my band were won over. I was most excited to hear Agents of Mercy vs. Karmakanic, so I was disappointed because we had to leave fairly early to go back to apartments and rest our voices.

Sunday was nerve wracking (as always) waiting for our show. But hearing Multifuse definitely put me in a blissful zone. They had a quality like Magma, but a little less totalitarian! They were definitely a kinder, gentler Magma!. And I liked it. Awesome vocals (and I gushed after the performance). Then, Dead Heroes Club, who suprised me. Just looking at the font on their album cover made me think: Deep Purple Stormbringer! So, I wasn't sure what to expect, but they were just great. The singer is Fantastic! He reminded me of the singer from Iluvatar with a bit of Bernardo Lanzetti from PFM Chocolate Kings era. Really hard to imagine going on after them.